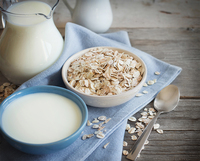 28 Mar 2018 --- Global nutrition group Glanbia Nutritionals has added oat and quinoa ingredients to its super-finely milled BevGrad line. The addition aims to keep pace with demand for products with whole grains, proteins and high fiber, for health-conscious consumers with busy lifestyles looking to pack in more nutrition
Traditionally, it has been challenging for beverage formulators to add whole grains to beverages due to unwanted settling and unappealing mouthfeel and flavor, according to Glanbia.
The new plant-based ingredients are used in BevGrad Oats GF & BevGrad Quinoa, the latest additions to Glanbia's range, which allows for great tasting whole grains to disperse evenly in ready-to-mix drinks.
Incorporating BevGrad Oats GF or BevGrad Quinoa also qualifies brands for the use of the sought-after Whole Grain Stamp, which is issued by the Whole Grain Council and highly trusted by consumers.
Oats and quinoa have become an increasingly sought-after alternative source of naturally occurring carbohydrates, fiber and protein, according to Glanbia.
"BevGrad ingredients are made from whole grains and seeds, with nutrients and fiber intact. The result is an ingredient with excellent dispersibility and smooth mouthfeel, perfect for powdered drink mixes," said Charles Steenwyk, Grains Global Product Manager at Glanbia Nutritionals.
BevGrad Oats GF and BevGrad Quinoa also deliver cold water dispersibility, are suitable for vegans and non-GMO.
Resource: